A Message from Brother James
Brother James L. Butler. FSC has been in his current ministry as President of La Salle College High School since June 2012. he is well known for his ability to connect with students, faculty, alumni and friends through his many vehicles of communication.
At the beginning of the school year, Brother James addressed the Junior Class during their orientation:
Men of the Class of 2021:
While I don't mind visiting the Jersey Shore for a long weekend or two during the summer, I can never really count on that experience to give me the distance which helps refresh my outlook for the coming year. So it was lucky this summer that I got a chance to spend some time in Qatar, the small peninsular country that juts out into the Persian Gulf. Over four days there, I discovered everything I need to say to you as you begin your junior year. I found it not in the beautiful modern city of Doha—which is kind of like San Diego heated up to 114 degrees—but out in the desert that stretches on from right outside that city's suburbs.
I learned today's lesson by learning another thing: how to ride a camel. Actually, riding a camel isn't hard, once you adjust to being much higher than you are on a bike or a horse. It's getting into riding position that's hard. The camel sits obediently on the ground while you're "boarding." But when he gets up, he does so hind legs first. This creates the somewhat unsettling sensation that you're going to pitch forward over the long neck and onto the ground.
The solution to this problem? Hold on tight with your legs and lean back with your torso. I'd suggest that's exactly what you need to do in these middle years of high school. Hold on tight. Hold on to the friends you've made, the things you believe in or think are important. A camel ride doesn't come with stirrups. You just sort of have to wiggle into place, and keep your balance. Just like this year. It's not a drastic adjustment like freshman year. It's just a process of measured adjustments until you're comfortable—but not so comfortable that you're not paying attention to what you're doing. Falling from a height of over seven feet onto hard sand is always unpleasant.
Most importantly, lean back. While self-protective instinct may suggest moving in the opposite direction, that won't help. Lean back, get the full perspective, and be open to the possibility that there may be something you're missing. Junior year provides a great opportunity to expand horizons, to pick up an activity, a sport or a friend you may have overlooked last year, before it's too late.
Ultimately, my camel ride was just a bit of a distraction while my guide let the air out of the SUV's tires before we went dune bashing. So it seemed like I just about relaxed, got confident I wouldn't fall off, and started to enjoy the ride…and it was over.
High school can be a bit like that too for some people. So make the most of the year we begin today.
God bless you throughout it and always, gentlemen.
×
BoushPopUpMenu popuptop
Dear Parents, Students, Guardians, Alumni, and Friends of La Salle College High School,


Quomodo sedet sola civitas. These words popped into my head late Monday afternoon as I flicked on the news prior to leaving for an evening engagement. I confess I first encountered them nearly forty years ago in a secular context: a Modern British Literature course where we were studying Evelyn Waugh's Brideshead Revisited prior to the release of the television miniseries of the same name, the one which introduced Jeremy Irons to the world. Quomodo sedet sola civitas plena populo. The words themselves are an allusion to scripture, to the first verses of the Lamentations of Jeremiah. This Latin translation is sung in the Holy Week liturgy of Tenebrae, the "service of shadows." Quomodo sedet sola civitas plena populo! Facta est quasi vidua domina gentium. "How does the city sit so lonely that was filled with people! How she has become a widow, she that was great among nations."


I have visited seven world cities repeatedly over my adult life. Two don't really hold a special place in my heart, though I am not blind to their allure (London and Rome). I am more susceptible to the magic of Hong Kong, Venice, and Prague, though I just haven't been to those cities as often as I have Sydney and Paris, the two where I feel an instant connection once the plane lands at Kingsford Smith or Charles de Gaulle Airport. Both cities provoke the same predictable behavior on arrival. Once I drop off my bags wherever I am staying, the first stop is always the same. In Sydney it's Circular Quay, the area nestled between the Harbour Bridge and the Opera House. In Paris, of course, the first destination was always Charlemagne Square and the Cathedral of Notre Dame de Paris.


The first sight of Notre Dame in flames on 15 April was surreal. At first it seemed like watching a clip from a film contending for a computer-generated special effects Oscar. This couldn't be happening, not to the place where human aspirations and divine transcendence intersect more perfectly than any other structure on earth. The images were shattering: the roof and scaffolding ablaze; the elegant, delicate spire collapsing inwards, the fire threatening the towers and façade, but held back, the inferno contained at a critical juncture. Devout Parisians and those of no faith alike looked on, generally silent and bereft, their "New Jerusalem" fulfilling Jeremiah's vision, not Revelation's.


Veteran European correspondents appeared ashen and tremulous while transmitting developments to anchors at homes. A surprising number among both groups framed the loss in terms of their own personal Catholicism, speculating with varying degrees of articulacy about the significance of the disaster in terms of the Holy Week mysteries. Laïcité, the enshrined French principle regarding the thoroughly secular nature of public life, was put to one side for a moment as groups prayed in the street; the video of those young people kneeling and singing a haunting French version of the Hail Mary went viral on cable news and in social media.


Then there were the pictures. I'm not referring to the videos of the conflagration in progress, which are simply disturbing, but to a couple of the aftermath. The ones accompanying this letter, they show the gold cross on the high altar strikingly visible amidst the haze and that same altar, wondrously intact when Tuesday dawned, surrounded by rubble from the roof, fallen 100 feet to the ground.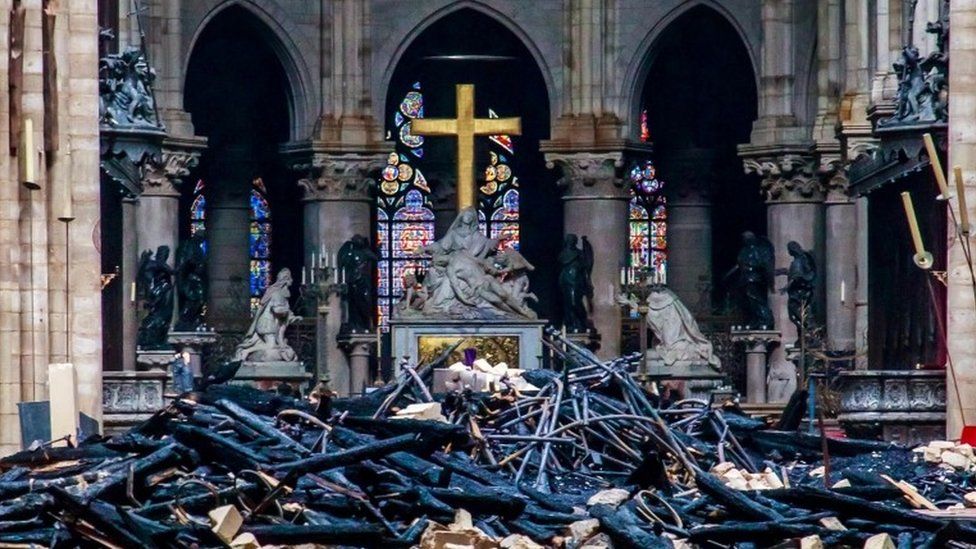 As any of your sons or peers who paid attention in AP European History can tell you, a Gothic cathedral is "a sermon in stone"; the stained glass and carvings provided an illiterate populace with access to the stories of the bible and the mysteries of salvation. And what a homily the edifice accounted most eloquent of all preaches this Holy Week, 2019:

It teaches us the value of community, both that formed by strangers in the anonymous city as they stated speechless at the devastation and that we make in our own parishes and congregations, teams and clubs, parents' organizations, and alumni classes in mid-life meeting for beers after work, a ritual that becomes lunch in our senior years;
It shows us how important it is to accept our limitations, but never to translate those limitations into inaction. Les Pompiers de Paris couldn't prevent all damage from the fire. The combination of 800-year-old timber, the scaffolding, incendiary chemicals and BoushXButton urban firefighting conditions proved overwhelming. But they did stop the fire from claiming the bell towers. Therefore, the cathedral's external structure remained intact, the three rose windows preserved. When we gather as family this Easter, we may be painfully conscious of the things we could not save: a child's marriage (or that of one's parents'); the addict who can never make it in recovery long enough to grab a six-months' coin; the kid we could never motivate to finish college; the recent widow or widower who finds in a holiday only the invitation to blacker, more wordless depression. These problems may be beyond our ability to solve, but that doesn't imply there isn't something we can do, someone affected to whom we can offer a healing love, a love that inspires hope.
It suggests the value of an incremental approach. The task of rebuilding seems so overwhelming right now. It may not end for years, but it will begin when the first wheelbarrow of blackened timber is carted away from the sanctuary floor. Most of us are self-reflective enough to know our faults and to experience frustration at their durability. But all God asks of us is to make those first small steps towards improvement, to "live Jesus" a little better each day, to find God's Presence in one more difficult person.
It trains us in the virtues of resignation and gratitude. How long will it take to restore Notre Dame, to replicate, however imperfectly, the glories of its past? You'll hear different numbers, but I'm guessing 30 years. By then, I'll be too old to undertake another trip to Paris (if I haven't made a shorter but more definitive one-way trip east on Cheltenham Avenue already!). But I got there six times over the last three decades, and I'm so grateful for that and for the opportunity to experience this epitome of western civilization across several seasons of the year and of my life. As we take stock of our lives and relationships over the Easter Triduum, may we all find that elusive "serenity to accept what I cannot change, courage to change what I can, and wisdom to know the difference."
It speaks emphatically to what endures: the saving power and mystery of the Cross, especially when we can barely glimpse it through the haze of confusion, even when it seems to preside only over the rubble of our lives. Sociologists tell us that only five percent of the French attend Church on a regular basis. It seems a much higher number were praying this past Monday. The lesson is the same as the theme Waugh wrote Brideshead Revisited to illustrate. You may forget to call to mind the Holy Presence of God, lose sight of the Cross, even turn your back on it. But that doesn't mean that its saving power will become one bit less efficacious for us and all those we love.
As we enter these holiest days of the Church year, please include in your prayers all of us at La Salle, that we may be blessed to succeed in the most important aspect of our Mission: instilling in our students, your sons and grandsons, a faith that fulfills the aspiration expressed by the city of Paris' ancient Latin motto, a retort to the quotation with which this letter began: Fluctuat nec mergitur. "It is rocked by the waves, but it does not sink."
Fraternally,
Brother James Butler, FSC
President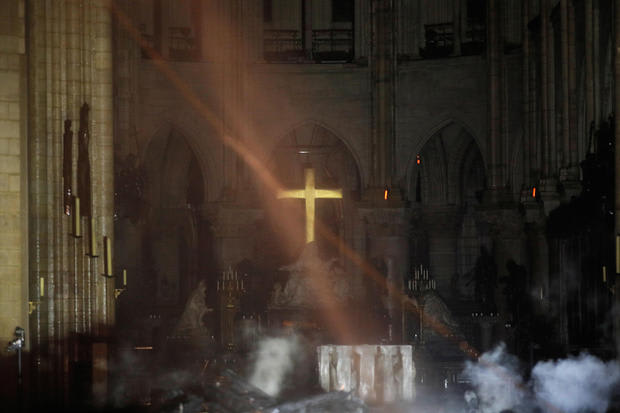 Brother James Honors Convocation Highlight